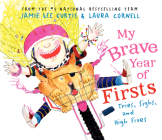 $16.99

This book may only be available directly from the publisher or current status is unknown, e-mail for availability.
Description
---
The first time I rode a two-wheeler alone, I crashed and my mom filmed it on her iPhone. . . .
The tenth children's book by the #1 New York Times bestselling team of Jamie Lee Curtis and Laura Cornell celebrates the extraordinary, everyday bravery of trying new things for the very first time. Whether Frankie's learning to ride a bike, love her first dog, make new friends (her very first twins), or help out her dad, she discovers that trying new things is how she grows—and that being brave enough to do so is what growing up is all about.
About the Author
---
Jamie Lee Curtis has had many firsts: her first (and only) marriage to Christopher Guest, her first time holding her children, Annie and Tom, her first time pretending to be a customer in an episode of Quincy, and her first time she wrote words that became her first book. She lives in Los Angeles, the first city she ever lived in, and is always first in line, first to arrive, first to leave, and first to sleep.
Laura Cornell lives in New York City with her daughter, Lily (first and only), but they spend much time in California, Laura's first state in her first home. She was asked to illustrate Jamie's first book, and that became ten. Lucky is the first word that comes to mind.
WE ARE OPEN FOR INSIDE SHOPPING!
WE ARE OPEN FOR INSIDE SHOPPING! We are taking every precaution to keep our staff and patrons safe. "If you are yet to be fully vaccinated, we kindly ask you to wear a mask in order to enter Rainy Day Books." Thank You, Vivien & Roger. Curbside & Inside Order Pick-Up Service and Inside Shopping are available Mondays to Fridays, from 10:00 AM to 4:00 PM, and Saturdays from 10:00 AM to 4:00 PM. Please place your Orders by Phone 913-384-3126, E-Mail Mailbox@RainyDayBooks.com and on our Website.
"When I discovered books as a young girl, I dreamt about having a bookstore where people could read about anything and everything that interests them. Books provide edification, entertainment, and escape. My dream came true, and I welcome you to Rainy Day Books." ~ Vivien Jennings, Founder & President
Call us at 913-384-3126 for personalized Reading Recommendations for all ages.