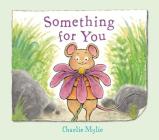 Description
---
Something for You is a touching picture book about lending a hand and the gift of friendship, from debut author-illustrator Charlie Mylie, whom Brian Selznick has heralded as "a major new talent in children's books."
A mouse's friend is sick. What can he do to help her? He'll go get her something! But what? Something little? Something to share? Or something just for her? When his search doesn't go as planned, our mouse realizes that the best gift to give is something he's had all along.
With expressive characters, sweeping landscapes, and spare text, Charlie Mylie's debut is a charming story of the comforts that friendship can bring.
About the Author
---
Charlie Mylie is a Kansas City-based illustrator who spent years performing as "Pop Up Charlie," drawing on-the-spot watercolors by request across the country. He also works with the founders of the Rabbit Hole, the World's First Explorastorium. Something For You is his debut picture book.
Praise For…
---
"Sophisticated layouts and clever use of panels create a visual narrative that takes readers on a journey with the character. A comforting reminder of friendship's restorative properties." —Kirkus Reviews
"Mylie's creative watercolor illustrations awaken this friendship story. . .A timeless story about the beauty and value of friendship that young readers will want to revisit time and time again." —School Library Journal
Thank You for your continuing support of Rainy Day Books!
Your Online Orders and Phone Orders help maintain our operations, our staff, and our mission to keep people well informed and entertained. Please spread the word that we are helping people of all ages get the Books they need. E-Mail and call your family & friends, post to social media, and spread the word. We are working 7 days a week to keep orders moving, please be patient as delivery times are now extended due to high order volume and delays in our restock. We are making every effort to expand delivery coverage, and we are sending some books directly from our suppliers to you to speed the process up!