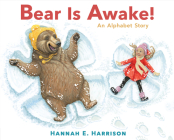 $17.99
In Stock as of this morning. Order Now!
Description
---
In this delightfully different alphabet book from the creator of Extraordinary Jane, a curious bear makes a new friend.

Suddenly "awake" in the middle of winter, a "big bear" explores a "cozy cabin," which Bear of course "enters excitedly." But the cabin isn't empty--a little girl lives there. So begins an unlikely friendship and an unexpected adventure as the girl attempts to figure out what a bear is supposed to be doing in the winter. (Hint: It's not eating pancakes or visiting the library!)

With her trademark humor and warmth, Hannah E. Harrison puts her own irresistible spin on the classic alphabet book. The result is a story families will treasure for years to come.
About the Author
---
Hannah Harrison is an award-winning illustrator whose first book, Extraordinary Jane, received three starred reviews and was a Kirkus Reviews Best Book of the Year. She lives with her family in Oklahoma.
Praise For…
---
★ "The cleverness and humor of the words is matched by art that is painterly, adorably sweet, and laugh-out-loud funny . . . inspired by Helen Oxenbury's ABC of Things (1971). It is a fitting tribute. A perfect a-bear-cedary." —Kirkus, starred review

★ "The bear is adorably goofy, the palette soft and colorful, and the movements of the bear and the girl across the pages pull readers contentedly through the book. The underlying story of friendship and empathy is charming and the vocabulary accessible and informative . . . This is a must-buy for any parent, elementary, or juvenile collection, and teachers will find this a great model text for writing." —School Library Journal, starred review

★ "Each letter describes elements of the duo's journey, the dynamic illustrations proving of particular note as the bear awakens . . . Humorous facial expressions occur every step of the way, and the bear's good-natured mayhem should draw smiles."—Publishers Weekly, starred review

"A girl and a bear star in Harrison's tale that doubles as an alphabet book, letting even pre-readers follow the alphabetical story through the buoyant, expressive illustrations . . . The final page has  no words, just a proud look on the girl's face: mission accomplished." —New York Times Book Review

"Inside are some delicious words for readers to try out . . . Harrison's richly colored gouche illustrations are expressive . . . A sunny seasonal story to brighten a cold winter's day." —Horn Book
Thank You for your continuing support of Rainy Day Books!
Your Online Orders and Phone Orders help maintain our operations, our staff, and our mission to keep people well informed and entertained. Please spread the word that we are helping people of all ages get the Books they need. E-Mail and call your family & friends, post to social media, and spread the word. We are working 7 days a week to keep orders moving, please be patient as delivery times are now extended due to high order volume and delays in our restock. We are making every effort to expand delivery coverage, and we are sending some books directly from our suppliers to you to speed the process up!