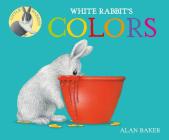 $7.99
On Our Shelves Now, E-mail or Call!
Description
---
White Rabbit finds three pots of paint—and discovers the magic of color!
Young children will enjoy following Alan Baker's inquisitive LITTLE RABBITS as they make new discoveries. Simple storylines and playful artwork offer a fresh approach to learning early concepts.
About the Author
---
Alan Baker has illustrated The Odyssey and The Story of King Arthur, both published by Kingfisher. In addition, Alan created the popular and successful Little Rabbits series, which has sold over half-a-million copies in the U.S. Alan is a lecturer in illustration at the University of Brighton, England.
Thank You for your continuing support of Rainy Day Books!
Your Online Orders and Phone Orders help maintain our operations, our staff, and our mission to keep people well informed and entertained. Please spread the word that we are helping people of all ages get the Books they need. E-Mail and call your family & friends, post to social media, and spread the word. We are working 7 days a week to keep orders moving, please be patient as delivery times are now extended due to high order volume and delays in our restock. We are making every effort to expand delivery coverage, and we are sending some books directly from our suppliers to you to speed the process up!