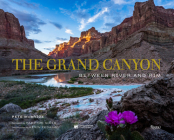 $55.00
Out of Stock, generally 4-5 days to Order your Copy and have it arrive.
Description
---
This is a once-in-a-lifetime experience--an end-to-end, rim-to-river exploration of the Grand Canyon. The authors have debuted a film-Into the Canyon-in February of 2019 that explores their hike through the canyon

Award-winning photographer Pete McBride, along with best-selling authors Kevin Fedarko and Hampton Sides, takes us on a gripping adventure story told through stunning, never-before-seen photography and powerful essays. By hiking the entire 750 miles of Grand Canyon National Park--from the Colorado River to the canyon rim--McBride captures the majesty of as well as calling us to protect America's open-aired cathedral.
The 2019 Public Lands Alliance Partnership Book of the Year, this is the most spectacular collection of Grand Canyon imagery ever seen, showing beauty from vantages where no other photographers have ever stood. It will also highlight the conservation challenges this iconic national park faces as visitation numbers grow and development pressures surrounding it mount. This photography will inspire and remind us why we protect such a cherished public space.
Proceeds benefit the Grand Canyon Conservancy, and the accompanying documentary Into the Canyon has been shown at the Flagstaff Mountain Film Festival and the Aspen Film Festival in February of 2019 as well as debuting on the National Geographic Channel--all in time for the national park's centennial.
About the Author
---
Pete McBride has traveled on assignment to more than 75 countries for the National Geographic Society, Smithsonian, Outside, Esquire, Microsoft, and The Nature Conservancy. Recently McBride has focused his cameras on his backyard river, the Colorado. Four years and 1,500 river miles later, McBride produced a book, filmed three award-winning short documentaries, and hosted a PBS TV program.
Kevin Fedarko lives in northern New Mexico and works as a part-time river guide in Grand Canyon National Park. He is the author of the New York Times best seller The Emerald Mile. In addition to his travel narratives in Outside, where he worked as a senior editor, Fedarko's work has appeared in Esquire, National Geographic Adventure, and other magazines.
Hampton Sides is editor-at-large for Outside magazine and the author of the international bestseller Ghost Soldiers, which was the basis for the 2005 Miramax film The Great Raid.
The Grand Canyon Conservancy is the official nonprofit partner of Grand Canyon National Park, working to support projects including trails and historic building preservation, educational programs for the public, and the protection of wildlife and their natural habitat.
Praise For…
---
"National Outdoor Book Award: Design and Artistic Merit. This large format book is more than a collection of beautiful photographs—although, it certainly is that—rather it is a moving, visual story of an amazing 750-mile hike from one end of the Grand Canyon to the other. Photographer Pete McBride and fellow companion Kevin Fedarko did it the hard way: traveling off-trail, searching out weaknesses in the canyon walls: thin, airy ledges, faint wildlife trails, and zigzagging through sweltering boulder fields.  This is a real treat: an inspiring adventure and superb photography all rolled into one colorful and marvelous work of art." 

Winner for the 2019 Banff Mountain Book Competition Awards – Mountain image category: "The scale and quality of the images do justice to the stunning landscape. The devil is in the detail - McBride finds it through his lens as well as his pen. He captures the textures of the canyon; he looks for the signs of changing seasons, he grows as he walks through its passages." - Nandini Purandare, 2019 Book Competition Jury

"After more than 100 days in this supreme wilderness, McBride's raw and profound experience has been compiled in The Grands Canyon: Between River and Rim, a gorgeous 236-page coffee-table tome…"
— National Geographic 

"The Grand Canyon needs to be saved by every generation. The Grand Canyon: Between River and Rim… aims to capture not just the familiar grandeur but also some of the fragile idiosyncrasies of the between-lands, as an argument for leaving them alone."  
— The New Yorker

"Named one of 'The best photo books to gift this holiday season. Freshly compiled work from some of the adventure world's best photographers.'"
— Outside Magazine

"To put it simply, his new book The Grand Canyon: Between River and Rim, is the masterpiece of its genre."
— Dr. Tom Myers, author of best selling book Death in Grand Canyon 
 
"Total Masterpiece." 
— Chris Burkard, photographer 
 
"This beautiful coffee table book takes readers on a gorgeous visual journey while also posing critical questions about wilderness conservation." 
— Ultimate Experiences Magazine 
 
"A masterpiece in the name of conservation." 
 — Renan Ozturk, National Geographic photographer  

"The Grand Canyon by self-taught Colorado photographer and filmmaker Pete McBride sprang from his 2015 expedition with Kevin Fedarko (author of The Emerald Mile): The two men backpacked 750-plus, mostly trail-less miles from Lees Ferry to Grand Wash Cliffs. Much to his credit, McBride does not shy from 'non-traditional' motifs that challenge viewer expectations: tangled fence-wire, South Rim light pollution, Havasupai protesters, or a composite of jetboats and choppers clogging the river section called 'Heli Alley.' The overall impression, however—reinforced by grit-and-dirt adventure photography—is that the Grand Canyon still offers much-needed relief and refuge, and not just to Homo sapiens."
— High Country News

"The best Christmas books for travelers (2018)... Some 5.9 million people a year visit the Grand Canyon, but fewer than a dozen have walked it from end to end, a journey-without-trails of some 750 miles. The photographer Pete McBride did so with his friend Kevin Fedarko, a writer and former river guide in Grand Canyon National Park. With the park's centenary approaching, they share what they found in the canyon's remote ribs, and report on the continuing struggle between conservation and exploitation (they logged 363 helicopter flights in the space of eight hours). As McBride puts it, 'If we cannot protect this space, the seventh natural wonder of the world, what can we protect?'" — The Telegraph (UK)

"In his new book, "The Grand Canyon: Between River and Rim," Colorado native and National Geographic photographer Pete McBride showcases the immense beauty of the Grand Canyon while reminding us of its challenges and its changing landscape." —Arizona Daily Sun

"A work of fine art and an avowal on the power and wisdom of place."  —Sojourner Magazine 

"One of the most spectacular and unique photographic records of the Grand Canyon ever produced."
— 2018 Southwest Books of the Year Award Winner 

"Enjoy These Breathtakingly Beautiful Photos: Grand Canyon National Park's 100th Anniversary. In The Grand Canyon: Between River and Rim, award-winning photographer/filmmaker/writer Pete McBride and Kevin Fedarko (acclaimed author of The Emerald Mile, a fast-moving river odyssey) thrillingly and thoughtfully documented their more than 750-mile hike in the canyon from end to end, at times a treacherous and mind-bogglingly daring adventure." — Forbes.com
Read Like Your Life Depends On It!
IN-STORE BROWSING HAS TO BE POSTPONED FOR NOW: We are taking every precaution to keep our staff and patrons safe. Curbside Pick-Up Service of Orders is only available at the present time, and is currently available Mondays to Fridays, from 10:00 AM to 3:00 PM, and Saturdays from 11:00 AM to 2:00 PM. Please place your Orders by Phone 913-384-3126, E-Mail Mailbox@RainyDayBooks.com and on our Website.
"When I discovered books as a young girl, I dreamt about having a bookstore where people could read about anything and everything that interests them. Books provide edification, entertainment, and escape. My dream came true, and I welcome you to Rainy Day Books." ~ Vivien Jennings, Founder & President
Call us at 913-384-3126 for personalized Reading Recommendations for all ages.