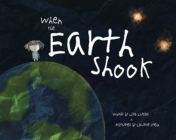 $17.95
On Our Shelves Now, E-mail or Call!
Description
---
For the 50th anniversary of Earth Day, a mythic framing of climate change and one little girl's response.  
Alya and Atik are stars. Their job is to twinkle in the night sky over Earth, and for billions of years they do it well. Plants stretch toward them. Animals look up at them. And, eventually, humans gaze up at them and marvel. But then humans invent powerplants, factories, and cars, and smog pours into Earth's atmosphere. It becomes harder and harder for Alya and Atik to do their jobs—until, finally, the stars yell at Earth, and Earth feels sick and begins to shake, and things look pretty dire.
The clueless king's response is to command Earth to stop shaking. But a little girl named Axiom tells the king to hush, then tells humans what they must do to make the Earth feel better.   When the Earth Shook provides a mythical framing for kids to understand that it will be their job to help save the Earth. Bravo, Axiom! Keep using that huge megaphone until the earth no longer shakes! Axiom's list of instructions to humans—some well-known and others new but critically important—appears in the back of the book.
About the Author
---
Lisa Lucas started her career writing for Reader's Digest and has written children's books, scripts for movies and television, and historical fiction for middle-grade readers. She has received the CIBC Children's Miracle Maker Award and the Canada Post Community Literacy Award.

Laurie Stein has illustrated children's literature for many Canadian and U.S. publishers. Lisa Lucas and Laurie teamed up a decade ago and have created more than thirty children's books together, tackling such contentious subjects as refugee children, climate change, and sexual violence. Their belief that children deserve to know the truth inspires their work, which was recently recognized by The Canadian Children's Book Centre.
Praise For…
---
This book is a perfect way to introduce young children to the grave dangers our climate faces and what they can do to reduce their carbon footprint. The message is clear and powerful, yet presented in a manner that is educational, not too intimidating, and shows a real promise for the future if we all work together.
A "must have" for any public or elementary school library–an important message that children need to hear.
— Kristin Guay, former youth services librarian
Thank You for your continuing support of Rainy Day Books!
Your Online Orders and Phone Orders help maintain our operations, our staff, and our mission to keep people well informed and entertained. Please spread the word that we are helping people of all ages get the Books they need. E-Mail and call your family & friends, post to social media, and spread the word. We are working 7 days a week to keep orders moving, please be patient as delivery times are now extended due to high order volume and delays in our restock. We are making every effort to expand delivery coverage, and we are sending some books directly from our suppliers to you to speed the process up!