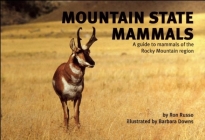 $7.75

Out of Stock, Generally 3-5 business days to Order your Copy and have it arrive at our store or your home.
Description
---
Easily Identify the Mammals You Find in the Mountain States

Enjoy learning to identify mammals of the Rocky Mountain region with this pocket-size field guide from author Ron Russo. With this handy, easy-to-use book, you'll be able to identify a wide variety of mammals in no time. And its small size makes it just right for fitting into your pocket or pack when you go for a hike.

Features:

Helps readers identify the wild mammals of the Rockies and Great Basin (Idaho, Montana, Wyoming, Utah, Colorado, Arizona, and New Mexico)
Includes a sighting key to identify animals that are seen
Provides keys to prints, droppings, skulls and jaws, and other signs animals leave behind, to aid in identification of often-elusive animals that are not seen
Gives information about the biology of each species
Includes copious amounts of illustrations with drawings of tracks, skulls, scat, and animals, as well as range maps
About the Author
---
Ron Russo is a naturalist in Oakland, California. Barbara Downs is a freelance illustrator.