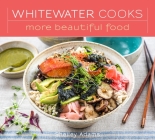 $34.95

Out of Stock, generally 2-3 business days to Order your Copy and have it arrive at our store or your home.
Description
---
This long awaited fifth book in the bestselling Whitewater Cooks series is full of new recipes to inspire fans and delight newcomers to these fabulous cookbooks. Shelley's innate flair for creating and developing recipes have made her famous for turning home cooks into culinary rock stars.
About the Author
---
Shelley is the chef and driving force behind the best selling Whitewatercooks series. She is pasionate about creating easy to follow delicious recipes from fresh ingredients and about sharing her love of food with others. Shelley is a force of nature who thrives on non-stop activity and on creating amazing meals for friends and family.
WE ARE OPEN FOR INSIDE SHOPPING!
WE ARE OPEN FOR INSIDE SHOPPING! We are taking every precaution to keep our staff and patrons safe. "If you are yet to be fully vaccinated, we kindly ask you to wear a mask in order to enter Rainy Day Books." Thank You, Vivien & Roger. Curbside & Inside Order Pick-Up Service and Inside Shopping are available Mondays to Fridays, from 10:00 AM to 4:00 PM, and Saturdays from 10:00 AM to 2:00 PM. Please place your Orders by Phone 913-384-3126, E-Mail Mailbox@RainyDayBooks.com and on our Website.
"When I discovered books as a young girl, I dreamt about having a bookstore where people could read about anything and everything that interests them. Books provide edification, entertainment, and escape. My dream came true, and I welcome you to Rainy Day Books." ~ Vivien Jennings, Founder & President
Call us at 913-384-3126 for personalized Reading Recommendations for all ages.