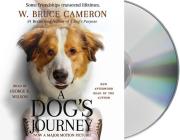 $39.99
Out of Stock, generally 4-5 days to Order your Copy and have it arrive.
Description
---
Soon to be a Major Motion Picture!
Audiences are invited along on A Dog's Journey, the next chapter of the beloved bestselling series by author W. Bruce Cameron. The family film told from the dog's perspective serves as the much-anticipated follow-up to the soulful story of one devoted dog who finds the meaning of his own existence through the lives of the humans he teaches to laugh and love.
After searching for his purpose through several eventful lives, Buddy is sure that he has found and fulfilled it. Yet as he watches curious baby Clarity get into dangerous mischief, he is certain that this little girl is very much in need of a dog of her own.
When Buddy is reborn, he realizes that he has a new destiny. He's overjoyed when he is adopted by Clarity, now a vibrant but troubled teenager. When they are suddenly separated, Buddy despairs—who will take care of his girl?
Directed by Gail Mancuso (TV's Modern Family, Roseanne), A DOG'S JOURNEY is once again produced by Gavin Polone (A Dog's Purpose, Zombieland). Mancuso directs from an adapted screenplay by Cameron & Cathryn Michon and Wally Wolodarsky & Maya Forbes, based on the book by Cameron. The film from Amblin Entertainment and Walden Media will be distributed by Universal Pictures.
A charming and heartwarming story of hope and unending devotion, A Dog's Journey is the moving story of unwavering loyalty and a love that crosses all barriers.
A Dog's Purpose Series
#1 A Dog's Purpose
#2 A Dog's Journey
#3 A Dog's Promise
Books for Young Readers
Ellie's Story: A Dog's Purpose Puppy Tale
Bailey's Story: A Dog's Purpose Puppy Tale
Molly's Story: A Dog's Purpose Puppy Tale
Max's Story: A Dog's Purpose Puppy Tale
Toby's Story: A Dog's Purpose Puppy Tale
Shelby's Story: A Dog's Way Home Novel

The Rudy McCann Series
The Midnight Plan of the Repo Man
Repo Madness

Other Books
A Dog's Way Home
The Dog Master
The Dogs of Christmas
Emory's Gift
About the Author
---
W. BRUCE CAMERON is the #1 New York Times and USA Today bestselling author of A Dog's Purpose, A Dog's Way Home, and A Dog's Journey (all now major motion pictures), The Dog Master, the A Dog's Purpose Puppy Tales for young readers (starting with Ellie's Story and Bailey's Story), The Dogs of Christmas, The Midnight Plan of the Repo Man, and others. He lives in California.

George K Wilson has narrated over 100 audiobook titles and has won several AudioFile Earphone Awards. He has worked in broadcast news, stage, television, and stand-up comedy, and has written and performed over 500 nationally syndicated news satire features for public radio and NPR. He had a lead role in cult film hit Attack of the Killer Tomatoes and has appeared on television in One Life to Live, Ryan's Hope, and The Doctors. Wilson has also done voiceovers for a number of TV and radio commercials as well as for The Guiding Light and The Cosby Show.
Praise For…
---
"An amazing book. I laughed and smiled and cried. Wise…and sure to open the hearts of all who read it. Bailey has much to teach us about a dog's love of liberty." —Alice Walker, Pulitzer Prize–winning author of The Color Purple, on A Dog's Purpose
"I loved the book and I could not put it down. It really made me think about the purpose of life. At the end, I cried." —Temple Grandin, New York Times bestselling author of Animals in Translation and Animals Make Us Human, on A Dog's Purpose
"Marley & Me combined with Tuesdays With Morrie." —Kirkus Reviews on A Dog's Purpose
"Funny, heartwarming, and touching." —Library Journal (starred review) on A Dog's Purpose
Thank You for your continuing support of Rainy Day Books!
Your Online Orders and Phone Orders help maintain our operations, our staff, and our mission to keep people well informed and entertained. Please spread the word that we are helping people of all ages get the Books they need. E-Mail and call your family & friends, post to social media, and spread the word. We are working 7 days a week to keep orders moving, please be patient as delivery times are now extended due to high order volume and delays in our restock. We are making every effort to expand delivery coverage, and we are sending some books directly from our suppliers to you to speed the process up!