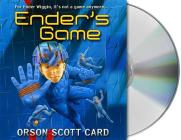 Email or call for price, this title will require additional shipping and handling in order for us to obtain it for you.
Description
---
Orson Scott Card's Ender's Game is the winner of the 1985 Nebula Award for Best Novel and the 1986 Hugo Award for Best Novel.

In order to develop a secure defense against a hostile alien race's next attack, government agencies breed child geniuses and train them as soldiers. A brilliant young boy, Andrew "Ender" Wiggin lives with his kind but distant parents, his sadistic brother Peter, and the person he loves more than anyone else, his sister Valentine. Peter and Valentine were candidates for the soldier-training program but didn't make the cut—young Ender is the Wiggin drafted to the orbiting Battle School for rigorous military training.

Ender's skills make him a leader in school and respected in the Battle Room, where children play at mock battles in zero gravity. Yet growing up in an artificial community of young soldiers Ender suffers greatly from isolation, rivalry from his peers, pressure from the adult teachers, and an unsettling fear of the alien invaders. His psychological battles include loneliness, fear that he is becoming like the cruel brother he remembers, and fanning the flames of devotion to his beloved sister.

Is Ender the general Earth needs? But Ender is not the only result of the genetic experiments. The war with the Buggers has been raging for a hundred years, and the quest for the perfect general has been underway for almost as long. Ender's two older siblings are every bit as unusual as he is, but in very different ways. Between the three of them lie the abilities to remake a world. If, that is, the world survives.
About the Author
---
Stefan Rudnicki
is an award winning audiobook narrator, director and producer. He was born in Poland and now resides in Studio City, California. He has narrated more than three hundred audiobooks and has participated in over a thousand as a writer, producer, or director. He is a recipient of multiple Audie Awards and
AudioFile
Earphones Awards as well as a Grammy Award, a Bram Stoker Award, and a Ray Bradbury Award. He received
AudioFile
's award for 2008 Best Voice in Science Fiction and Fantasy. Along with a cast of other narrators, Rudnicki has read a number of Orson Scott Card's best-selling science fiction novels. He worked extensively with many other science fiction authors, including David Weber and Ben Bova. In reviewing the twentieth anniversary edition audiobook of Card's
Ender's Game
,
Publishers Weekly
stated, "Rudnicki, with his lulling, sonorous voice, does a fine job articulating Ender's inner struggle between the kind, peaceful boy he wants to be and the savage, violent actions he is frequently forced to take." Rudnicki is also a stage actor and director.
Orson Scott Card is best known for his science fiction novel Ender's Game and its many sequels that expand the Ender Universe into the far future and the near past. Those books are organized into the Ender Quintet, the five books that chronicle the life of Ender Wiggin; the Shadow Series, that follows on the novel Ender's Shadow and are set on Earth; and the Formic Wars series, written with co-author Aaron Johnston, that tells of the terrible first contact between humans and the alien "Buggers." Card has been a working writer since the 1970s. Beginning with dozens of plays and musical comedies produced in the 1960s and 70s, Card's first published fiction appeared in 1977--the short story "Gert Fram" in the July issue of The Ensign, and the novelette version of "Ender's Game" in the August issue of Analog. The novel-length version of Ender's Game, published in 1984 and continuously in print since then, became the basis of the 2013 film, starring Asa Butterfield, Harrison Ford, Ben Kingsley, Hailee Steinfeld, Viola Davis, and Abigail Breslin.

Card was born in Washington state, and grew up in California, Arizona, and Utah. He served a mission for the LDS Church in Brazil in the early 1970s. Besides his writing, he runs occasional writers' workshops and directs plays. He frequently teaches writing and literature courses at Southern Virginia University.

He is the author many science fiction and fantasy novels, including the American frontier fantasy series "The Tales of Alvin Maker" (beginning with Seventh Son), and stand-alone novels like Pastwatch and Hart's Hope. He has collaborated with his daughter Emily Card on a manga series, Laddertop. He has also written contemporary thrillers like Empire and historical novels like the monumental Saints and the religious novels Sarah and Rachel and Leah. Card's work also includes the Mithermages books (Lost Gate, Gate Thief), contemporary magical fantasy for readers both young and old.

Card lives in Greensboro, North Carolina, with his wife, Kristine Allen Card. He and Kristine are the parents of five children and several grandchildren.
Harlan Ellison (1934-2018)
wrote or edited 75 books and more than 1700 stories, essays, articles, and newspaper columns as well as two dozen teleplays and a dozen motion pictures. He won the Hugo award nine times, the Nebula award four times, the Bram Stoker award six times (including The Lifetime Achievement Award in 1996), the Edgar Allan Poe Award of the Mystery Writers of America twice, the Georges Méliès fantasy film award twice, and was awarded the Silver Pen for Journalism by PEN, the international writer's union.
Praise For…
---
"This audio version was created in celebration of the 20th anniversary of the novel and it's a gem…. Stefan Rudnicki is particularly good as Ender." —School Library Journal, Starred Review

"[Rudnicki's] deep, dispassionate, and sometimes lacerating voice gives a mesmerizing performance, managing to make Ender believable both as a vulnerable boy and as a brilliant military strategist…. a riveting audio production of Card's classic 1977 novel, which in this ideal format remains as original, disturbing, and ultimately surprising as ever." —Horn Book

"Rudnicki, the main narrator and voice of Ender, reads in a cool, almost emotionless manner, which seems just right for this dark life-or-death tale. Rudnicki excels when reading the students' Battle School dialogue, a rhythmic slang used by the cadets…. De Cuir portrays Ender's beloved sister, who remains on Earth." —Booklist

"I've saved my favorite for last; if you loved Ender's Game, you will go nuts for these fantastic full-cast recordings." —Examiner.com on Ender's Game and Ender's Shadow