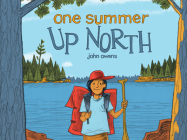 $17.95
Out of Stock, generally 4-5 days to Order your Copy and have it arrive.
Description
---
A wordless picture-book journey through the Boundary Waters, canoeing and camping with a family as they encounter the northwoods wilderness in all its spectacular beauty

It's a place of wordless wonder: the wilderness of the Boundary Waters on the Minnesota–Canada border. Travel its vast distances, canoe its streams and glacial lakes, take shelter from rain under a rocky outcropping (or in your tent), camp in its vaulting forests as stars embroider the darkening sky. Is this your first visit? Or is it already your favorite destination? 

Come along—join a family of three as their journey unfolds, picture by picture, marking the changing light as the day passes, the stillness before the gathering storm, the shining waters everywhere, rushing here, quietly pooling there, beckoning us ever onward into nature's infinite wildness one summer up north.
About the Author
---
John Owens is a freelance illustrator who teaches at the University of Minnesota. This book, his first, was inspired by his travels north to paddle, portage, and camp in the Boundary Waters Canoe Area Wilderness.
Praise For…
---
"John Owens invites readers to accompany a family into a world of pine woods and clear water, hiking through misty mornings, camping beneath the bright blaze of the Milky Way. Evocative and memory-stirring, One Summer Up North is a journey well worth taking."—Eric Rohmann, Caldecott Medal–winning author of My Friend Rabbit
"It is appropriate that this is a wordless book – silent and picturesque much like the area the book is portraying. The illustrations encourage the reader to linger on each page a little and completely soak in what is being offered–creating a new story each time the book is opened."—Youth Services Book Review
"If you're looking for a book with pictures that evoke a calming, relaxing feel, this could be a great read for your family!"—Bawbee Books
"Children will be scrambling to dust off their tents and oars to create their own memories, too."—Foreword Reviews
"The wordless text evokes the peaceful quiet of being outdoors, culminating in a particularly beautiful spread of a starry sky. A trip worth taking."—Kirkus Reviews
"Debut author Owens uses no words in these pages, and readers won't miss them—digitally colored pencil illustrations, with their impressionistic touches of color, texture, and shape, exude a plainspoken eloquence. He adeptly portrays both big geographic expanses and wholly intimate moments of an affectionate family free from everyday distractions."—Publishers Weekly, starred review
Thank You for your continuing support of Rainy Day Books!
Your Online Orders and Phone Orders help maintain our operations, our staff, and our mission to keep people well informed and entertained. Please spread the word that we are helping people of all ages get the Books they need. E-Mail and call your family & friends, post to social media, and spread the word. We are working 7 days a week to keep orders moving. Please be patient as delivery times are now extended due to high order volume and delays in our restock. We are sending some books directly to you from our suppliers to speed up the process!