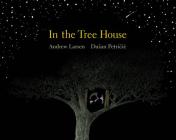 $7.99
Out of Stock, generally 2-3 days to Order your Copy and have it arrive.
Description
---
As this enchanting picture book begins, a young boy is fondly remembering last summer, when his dad built an awesome tree house in their backyard. ?My brother and I spent most of that summer in the tree house. It was the best summer ever.? Sadly, everything has changed this year. His brother is now ?too busy with his friends? to come to the tree house at all. But then one night the power unexpectedly goes out while the young boy is there by himself, and he's treated to an amazing view of his neighborhood, blanketed in darkness and lit only by the stars. And then, just as unexpectedly, his brother appears, wanting to join him, to savor the magic of the night.

Author Andrew Larsen has created a fantasy-inducing (what child doesn't pine for a house in a tree?) and emotionally satisfying story that young children will want to revisit again and again. His unique use of the first person to tell the story along with his simple, spare style evocatively relates the feelings the young boy has toward his special corner of the world and his older brother, without being overly mushy. The emotional poignancy is further enhanced by Du?an Petri?i?'s expressive and detailed artwork. This book makes a great resource for lessons on community, siblings or growing up. Separately, this book could also be used for classroom discussions about the environmental issues connected to the rate and severity of blackouts in recent years.
About the Author
---
Andrew Larsen is the acclaimed author of such books as Goodnight, Hockey Fans, A Squiggly Story, The Not-So-Faraway Adventure, In the Tree House and The Imaginary Garden. He lives in Toronto, Ontario.
Du?an Petri?i? is an award-winning children's book designer and illustrator whose books include The Enormous Potato and Lickety-Split. He lives in Toronto, Ontario.
Praise For…
---
... cheerily illustrated ... this picture book captures ... the thrill of brotherly camaraderie ...—The Wall Street Journal

The powerful story is made more so by the expressive illustrations of masterful Serbian-Canadian artist Du?an Petri?i?.—Quill & Quire

The layout of this small, oblong picture book is attractive, and the story is pleasant.—School Library Journal

Larsen's text is full of delights, simple sensory details that capture a mood. ... To these crisply written words, Petri?i? brings his own rich dimension of narrative and character.—Quill & Quire, Starred Review

Heartfelt and subtle.—Booklist