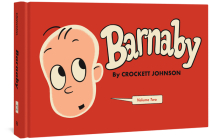 $39.99
Email or call for price
Description
---
Volume 2 of legendary children's book author (Harold and the Purple Crayon) Crockett Johnson's long-lost comic-strip masterpiece collects 5-year-old Barnaby Baxter and his Fairy Godfather J.J. O'Malley's 1944-1945 newspaper strip misadventures: designed by graphic novelist Daniel Clowes (Ghost World).
The long-lost comic strip masterpiece by Crockett Johnson, legendary children's book author (
Harold and the Purple Crayon
,
The Carrot Seed
), collected in full and designed by graphic novelist and Barnaby superfan Daniel Clowes (
Ghost World
,
Wilson
). Vol. 2 collects the years 1944-1945 of 5-year-old Barnaby Baxter and his Fairy Godfather J.J. O'Malley's misadventures. The cigar-chomping, bumbling con-artist and fast-talker O'Malley takes Barnaby on a trip to D.C. to serve his term in Congress. Also, Gus the Ghost and O'Malley follow the Baxters to their seaside cottage, enlisting Barnaby to join them on a treasure hunt. Plus Wall St., Ermine hunters, soap salesmen and more! Adored by all ages, Barnaby's deft balance of fantasy, timeless humor and elegant cartooning will delight even the most sophisticated reader (Chris Ware (
Building Stories
) loves it), much as it did in its original run, attracting fans as diverse as Dorothy Parker, Charles Schulz, W.C. Fields, Gardner Rea, Milton Caniff, Rockwell Kent and Louis Untermeyer.
About the Author
---
Crockett Johnson was the pen name of cartoonist and children's book illustrator David Johnson Leisk (October 20,1906–July 11, 1975). He is best known for the Harold series of books, which began with Harold and the Purple Crayon, and for the comic strip Barnaby. He was married to the children's book author Ruth Krauss, with whom he collaborated on several books, including The Carrot Seed.

Daniel Clowes (b. 1961, Chicago, Illinois) is an American cartoonist. He is a multi-Harvey, Eisner, and Ignatz Award Winner, and his papers have been acquired by the University of Chicago library. His most recent book, Patience, has been translated into nineteen languages, and his books and comics have won numerous awards, including a PEN America Literary Award and over a dozen Harvey and Eisner Awards. As a screenwriter, he has been nominated for an Academy Award and written the films Ghost World (with Terry Zwigoff), Art School Confidential, and Wilson. A retrospective of his work, Modern Cartoonist, debuted in 2012, appearing at the Museum of Contemporary Art in Chicago, the Oakland Museum, and the Wexner Center. His illustrations have been featured on a wide-ranging array of posters, album covers, and magazines, including many covers for The New Yorker. He lives in Oakland, California, with his wife and son.

Jules Feiffer is a cartoonist, playwright, children's book author and illustrator, and member of the American Academy of Arts and Letters. He teaches a humor writing class at Stony Brook Southampton College and lives in Southampton, New York.

Eric Reynolds is the VP/Associate Publisher of Fantagraphics Books. He has curated well over 4,000 pages of comics anthologies, between ten volumes of Now, 22 volumes of Mome from 2005-2010, and several Free Comic Book Day anthologies for Fantagraphics. He lives in Seattle, WA, with his wife and daughter.
Praise For…
---
In 1942, Crockett Johnson caught the American public by storm with his brilliant comic strip Barnaby. A whole new generation now will have the opportunity to become acquainted with Johnson's influential creation, a real treasure for readers of all ages.

— Michael Taube - The Washington Times

I think, and I'm trying to talk calmly, that Barnaby
and his friends and oppressors are the most important additions to American
arts and letters in Lord knows how many years.
— Dorothy Parker

Strikingly minimal, in that pre-Peanuts era, was Crockett Johnson's Barnaby, whose characters appeared in profile and whose talk balloons were lettered not by hand but by mechanical typesetting. In my love of cartoons, I sent away to cartoonists, begging for a free original strip. My sample Barnaby strip slowly shed, over the years, its glued-on lettering.

— John Updike