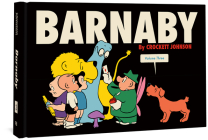 $39.99
Email or call for price
Description
---
This is the third book in a series of five collecting Harold and the Purple Crayon author Crockett Johnson's long-lost newspaper comic strip about a five-year-old boy and his fairy godfather.
The long-lost comic strip masterpiece by legendary children's book author Crockett Johnson (
Harold and the Purple Crayon, The Carrot Seed)
, collected in full and designed by graphic novelist and Barnaby superfan Daniel Clowes (
Ghost World
). Volume Three collects the postwar years of 1946-1947, continuing five-year-old Barnaby Baxter and his Fairy Godfather J.J. O'Malley's misadventures. Bumbling but endearing, Mr. O'Malley rarely gets his magic to work -- even when he consults his
Fairy Godfather's Handy Pocket Guide
. The true magic of Barnaby resides in its canny mix of fantasy and satire, amplified by the understated elegance of Crockett Johnson's clean, spare art. In its combination of Johnson's sly wit and O'Malley's amiable windbaggery, a child's feeling of wonder and an adults' wariness, highly literate jokes and a keen eye for the ridiculous,
Barnaby
expanded our sense of what comics can do. This volume also features essays by comics historians Nathalie op de Beeck and Coulton Waugh, as well as Johnson biographer Philip Nel.
About the Author
---
Crockett Johnson was the pen name of cartoonist and children's book illustrator David Johnson Leisk (October 20,1906–July 11, 1975). He is best known for the Harold series of books, which began with Harold and the Purple Crayon, and for the comic strip Barnaby. He was married to the children's book author Ruth Krauss, with whom he collaborated on several books, including The Carrot Seed.

Jeff Smith was born in Pennsylvania in 1960 and grew up in Columbus, Ohio. He is best known for Bone, an award-winning, best-selling, self-published comic book. It's been adapted into a Telltale video game.

Ted Ferro is best known for co-writing Barnaby and the radio show Lorenzo Jones (the latter with his wife, Mathilde). He is deceased.

Jack Morley drew a Sunday newspaper page in the 1940s, and was an assistant on the mid-century newspaper strips Barnaby and Toonerville Folks.
Praise For…
---
Held in unparalleled regard by comics aficionados.
— Booklist

In 1942, Crockett Johnson caught the American public by storm with his brilliant comic strip Barnaby. A whole new generation now will have the opportunity to become acquainted with Johnson's influential creation, a real treasure for readers of all ages.

— The Washington Times

I think, and I'm trying to talk calmly,
that Barnaby and his friends and oppressors are the most important additions to
American arts and letters in Lord knows how many years.
— Dorothy Parker

Strikingly minimal, in that pre-Peanuts era, was Crockett Johnson's Barnaby, whose characters appeared in profile and whose talk balloons were lettered not by hand but by mechanical typesetting. In my love of cartoons, I sent away to cartoonists, begging for a free original strip. My sample Barnaby strip slowly shed, over the years, its glued-on lettering.

— John Updike