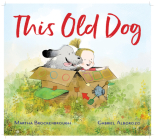 $17.99
In Stock as of this morning. Order Now!
Description
---
When so much of the world is new, you want to go slowly. to stop and enjoy everything; hills to roll down, perfect-sized rocks, trees that seem to whisper their thoughts. It's the same when you're much, much older, and every time 'round the seasons seems precious. Yet the folks in the middle (we know who we are) are always rushing, rushing, rushing. Appointments to make, trains to catch, places to be, FAST.

That's what makes the bond between old dog and the little girl so special. From the time she takes her first steps, old dog finds someone - at last! - who wants to go at the same pace he does. To walk with everywhere, through this wide, wonderful world.

A love song to the bond between young and old, this book will make you want to sit right down and read to someone you care about.
About the Author
---
Martha Brockenbrough wrote this book as a tribute to her own little girl and her precious old dog. She is a Kirkus Prize Finalist (for The Game of Love and Death) and a brilliant writer of picture books including Love, Santa and Cheerful Chick. She lives with her family, including two dogs and two cats, in Seattle, Washington.

Gabriel Alborozo is a dog lover, for sure, as you can see in these illustrations, the best of his career. His energetic line and beautiful sense of color have graced numerous picture books published around the world. This is his first for LQ. Gabe lives in Bexhill On Sea, East Sussex.
Praise For…
---
"A lovely celebration of toddler-dog love..."-Booklist, starred review
Thank You for your continuing support of Rainy Day Books!
Your Online Orders and Phone Orders help maintain our operations, our staff, and our mission to keep people well informed and entertained. Please spread the word that we are helping people of all ages get the Books they need. E-Mail and call your family & friends, post to social media, and spread the word. We are working 7 days a week to keep orders moving. Please be patient as delivery times are now extended due to high order volume and delays in our restock. We are sending some books directly to you from our suppliers to speed up the process!