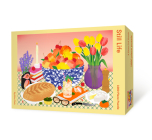 $19.99
In Stock as of this morning. Order Now!
Description
---
Still Life is a vivid 1,000 piece puzzle of a decadent table scene illustrated by Melbourne-based artist Alice Oehr.

The finished puzzle is 27 x 19.3 in and will take 3–10 hours to complete.

Reduce your screen time and start mindful gaming. Puzzling is meditative, rewarding and satisfying. It is also a great social activity as it's uncompetitive in nature and you can have as many players as you want.

The Piece Full puzzle series is a collection of illustrated puzzles by artists from all over the world. You are compelled to piece the puzzle together as the images are so beautiful – you will want to frame them! A perfect gift as well as self purchase.
Thank You for your continuing support of Rainy Day Books!
Your Online Orders and Phone Orders help maintain our operations, our staff, and our mission to keep people well informed and entertained. Please spread the word that we are helping people of all ages get the Books they need. E-Mail and call your family & friends, post to social media, and spread the word. We are working 7 days a week to keep orders moving. Please be patient as delivery times are now extended due to high order volume and delays in our restock. We are sending some books directly to you from our suppliers to speed up the process!