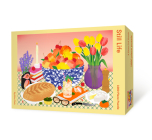 $19.99

In Stock as of this morning. Order Now!
Description
---
Still Life is a vivid 1,000 piece puzzle of a decadent table scene illustrated by Melbourne-based artist Alice Oehr.

The finished puzzle is 27 x 19.3 in and will take 3–10 hours to complete.

Reduce your screen time and start mindful gaming. Puzzling is meditative, rewarding and satisfying. It is also a great social activity as it's uncompetitive in nature and you can have as many players as you want.

The Piece Full puzzle series is a collection of illustrated puzzles by artists from all over the world. You are compelled to piece the puzzle together as the images are so beautiful – you will want to frame them! A perfect gift as well as self purchase.
WE ARE OPEN FOR INSIDE SHOPPING!
WE ARE OPEN FOR INSIDE SHOPPING! We are taking every precaution to keep our staff and patrons safe. "If you are yet to be fully vaccinated, we kindly ask you to wear a mask in order to enter Rainy Day Books." Thank You, Vivien & Roger. Curbside & Inside Order Pick-Up Service and Inside Shopping are available Mondays to Fridays, from 10:00 AM to 4:00 PM, and Saturdays from 10:00 AM to 4:00 PM. Please place your Orders by Phone 913-384-3126, E-Mail Mailbox@RainyDayBooks.com and on our Website.
"When I discovered books as a young girl, I dreamt about having a bookstore where people could read about anything and everything that interests them. Books provide edification, entertainment, and escape. My dream came true, and I welcome you to Rainy Day Books." ~ Vivien Jennings, Founder & President
Call us at 913-384-3126 for personalized Reading Recommendations for all ages.