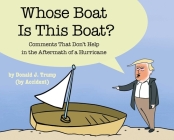 $14.99
In Stock as of this morning. Order Now!
Description
---
100% of The Late Show's proceeds from this book go to disaster relief.

Whose Boat Is This Boat? Comments That Don't Help in the Aftermath of a Hurricane is a picture book made entirely of quotations from President Donald Trump in the wake of Hurricane Florence. It is the first children's book that demonstrates what not to say after a natural disaster.

On September 19, 2018, Donald Trump paid a visit to New Bern, North Carolina, one of the towns ravaged by Hurricane Florence. It was there he showed deep concern for a boat that washed ashore. "At least you got a nice boat out of the deal," said President Trump to hurricane victims. "Have a good time!" he told them. The only way his comments would be appropriate is in the context of a children's book—and now you can experience them that way, thanks to the staff of The Late Show with Stephen Colbert.

Whose Boat Is This Boat? is an excellent teaching tool for readers of all ages who enjoy learning about empathy by process of elimination. Have a good time!
About the Author
---
The Staff of The Late Show are bipedal mammals. They were born on earth, and currently reside in the New York City area. Their hobbies include kayaking. Together, the Staff of The Late Show produce CBS's The Late Show with Stephen Colbert, a CBS show which airs late and stars Stephen Colbert.
Read Like Your Life Depends On It!
IN-STORE BROWSING HAS TO BE POSTPONED FOR NOW: We are taking every precaution to keep our staff and patrons safe. Curbside Pick-Up Service of Orders is only available at the present time, and is currently available Mondays to Fridays, from 10:00 AM to 3:00 PM, and Saturdays from 11:00 AM to 2:00 PM. Please place your Orders by Phone 913-384-3126, E-Mail Mailbox@RainyDayBooks.com and on our Website.
"When I discovered books as a young girl, I dreamt about having a bookstore where people could read about anything and everything that interests them. Books provide edification, entertainment, and escape. My dream came true, and I welcome you to Rainy Day Books." ~ Vivien Jennings, Founder & President
Call us at 913-384-3126 for personalized Reading Recommendations for all ages.